Prices
What does Millboard cost? That's an often asked question! We are happy to explain the cost of our materials.
Millboard's pricing is higher than that of standard decking materials and composite boards, reflecting the substantial differences in the product. Millboard is an aesthetically pleasing and exceptionally high-quality product with many advantages.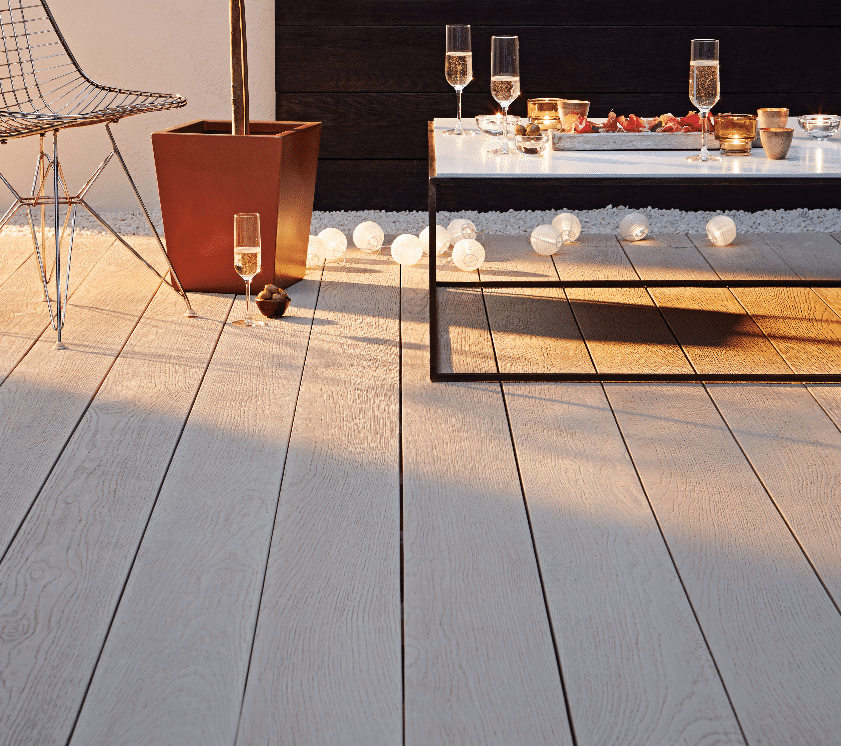 Surprisingly natural looking
The boards – exact, hand-formed replicas of wood boards in coarse and finer texture – have a specific wash that creates the unique hue and wood grain. This intensive, manual part of the production process increases costs, but makes the boards indistinguishable from real wood.
High quality and maintenance-free
Millboard is renowned for its high quality and low maintenance requirements. Its unique properties prevent discolouration, mould and rot and eliminate the need for sanding and treatment, saving a considerable amount of time and money. It is a lasting investment that will pay for itself in no time!
Indicative price outdoor flooring
Enhanced Grain | Burnt Cedar & Antique Oak: €235 per m²
Enhanced Grain | other colour variants: €215 per m²
Weathered Oak | Embered: €240 per m²
Weathered Oak | Driftwood & Vintage: €220 per m²
Indicative price Plas-Pro decking subframes (including screws)
From €30 per m²
Indicative price façade cladding
Envello Shadow Line: €270 per m²
Envello Board & Batten: €325 per m²
Enhanced Grain: €225 per m²
Weathered Oak: €220 per m²
All the prices shown above are starting prices and serve as a guideline. The final price depends on the chosen product, the chosen colour variant and whether edge finishes and/or joists are desired.
A quote for the chosen product can be requested via our quote request.
Samples
Our extensive collection makes it possible to give a unique look and feel to various outdoor applications. Want to experience Millboard's excellent quality and authentic wood look for yourself? You can, by requesting samples.
Alterwood
As an authorised distributor for the Netherlands, Alterwood offers both private and business customers the complete range of Millboard. From a wide choice of boards in various collections and with various colours, to specific finishing materials for an optimal final result. Alterwood provides guidance and assistance, from personalised advice and helping you consider all your options, to implementation and beyond.